ULPEC Fact Sheet #2: Event-based Vision Systems and their Possible Role in the EU Green Deal
Published on:
15 January 2022
In our Fact Sheet we summarise the key results and findings from our ULPEC Horizon 2020 research and innovation project. We focus on the possible role of event-based vision systems in European climate and sustainability strategies, because they are areas of great social concern.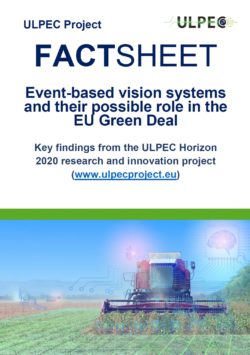 We explain the contribution of AI to the EU Green Deal, the potential of event-based vision for autonomous driving and smart agriculture and the breakthroughs that we achieved in ULPEC.
If you are not an expert you do not have to worry, because our Fact Sheet is easy to understand and avoids complicated technical terms!
Download the Fact Sheet here.
Other Publications