ULPEC Fact Sheet #1: Event-based Vision for Automated Driving – A Promising Technology for the Future
Published on:
15 January 2022
Our Fact Sheet summarises the key results and findings from our ULPEC Horizon 2020 research and innovation project. We focus on the overall technology concept and the application field of automated driving. Here event-based vision is of particular interest.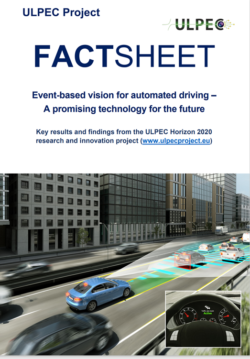 We cover topics like the general concept of event-based vision, advantages and challenges of the technology for the automotive industry and the breakthroughs that we achieved in ULPEC.
If you are not an expert you do not have to worry, because our Fact Sheet is easy to understand and avoids complicated technical terms!
Download the Fact Sheet here.
Other Publications